Filter
Map
Methodology of language school ranking
This ranking of language schools in Ramsgate is 100% transparent. It is
exclusively based on the objective criteria of authentic reviews of clients
who booked their language course at our site, and whose
attendance was verified
. The
primary ranking criteria is the average overall student satisfaction
rating (
detailed information about the methodology
).
Didn't find what you are looking for?
Interested in language travel to other cities? Have a look at English language schools in other cities in England UK such as Bath, Berkhamsted, Birmingham, Bournemouth, Brighton

...
, Bristol, Broadstairs, Bury St Edmunds, Cambridge, Canterbury, Chelmsford, Cheltenham, Chester, Chichester, Colchester, Cornwall, Durham, Eastbourne, Ellesmere, Exeter, Exmouth, Galashiels, Gloucester, Hampstead, Harrogate, Hastings, Hatfield, Hereford, Ipswich, Isle of Wight, Kent, Leamington Spa, Leeds, Lincolnshire, Liverpool, London, Loughborough, Luton, Malvern, Manchester, Margate, Milton Keynes, Moulton, Newcastle, Norwich, Nottingham, Oakham, Oxford, Paignton, Peterborough, Plymouth, Portsmouth, Preston, Reading, Reigate, Salisbury, Scarborough, Sheffield, Shrewsbury, Skegness, Southampton, Stratford, Stratford-upon-Avon, Suffolk, Surrey, Swanage, Teignmouth, Torquay, Totnes, Watford, Weymouth, Winchester, Windsor, Woburn, Woldingham, Woodcote, Worcester, Worthing, York or see our list of all schools in England UK.
You may also want to consult options outside England UK for learning English.
Why Ramsgate? Ramsgate enjoys some of the warmest weathers in the UK, so its main

...
attraction is obviously its award-winning sandy, blue flag beaches and coastline. The town retains a shabbily undiscovered charm where the main industries are tourism and fishing. Explore the eclectic mix of artisan and boutique shops or relax in one of the many waterfront bars, cafes and restaurants. If its something more adventurous you're after, why not cycle, canoe or even kite surf around the stunning chalk cliff coastline, famous worldwide.
Interested in online courses?
Most recent student reviews of language schools in Ramsgate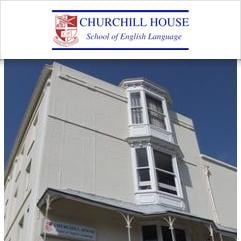 Churchill House
the activities and the Churchill staff
I had a fantastic experience in the Churchill School. The timetable that was given to us was very good and there is nothing wrong with the Churchill House.

22 July 2017
Course: Main 20 - 3 weeks
Student age: 16 years
Leonardo
Italy
Most popular English course types in Ramsgate
Interesting information about Ramsgate
Key Facts about Ramsgate
Population: 39,000
Time zone: +10h. (GMT +0)
Region: England, Kent
Currency: GBP (1 GBP = 1.2488 USD)
Visa:
Nationals from USA do not require a visa to study short term courses up to 180 days. Documentation regarding purpose of visit must be shown at the border in order to enter the country. For Study purposes: letter of enrolment from school, accommodation arrangements and proof of payments to the relevant institutions.
Check visa requirements for nationals from other countries.
High season: June
Low season: November
Average course price per week (High season): 375 £
Average course price per week (Low season): 300 C$
Cost of Living:
Big Mac price (England UK average):

3.28 £ (29% cheaper than in USA)
Mains electricity:
Residential voltage:

230 V

Frequency:

50 Hz
Map with location of English schools in Ramsgate



Arrival Airports
London City (LCY)
- 96 km. from Ramsgate city center
Public transportation to city center:
Taxi: minutes drive to city center of Ramsgate
Direct international flights from:
United Kingdom: Aberdeen, Belfast City, Cardiff, Edinburgh, Exeter, Glasgow International, Guernsey, Jersey, Ronaldsway
Ireland: Dublin
Stansted (STN)
- 101 km. from Ramsgate city center
Public transportation to city center:
Taxi: minutes drive to city center of Ramsgate
Direct international flights from:
United Kingdom: Belfast International, Derry, Dundee, Edinburgh, Glasgow International, Guernsey, Newquay
Ireland: Cork, Dublin, Kerry, Knock, Shannon
USA: Las Vegas Mccarran, Orlando International, Orlando Sanford
London Gatwick (LGW)
- 112 km. from Ramsgate city center
Public transportation to city center:
Taxi: minutes drive to city center of Ramsgate
London Heathrow (LHR)
- 130 km. from Ramsgate city center
Public transportation to city center:
Taxi: minutes drive to city center of Ramsgate
Direct international flights from:
USA: Atlanta Hartsfield-Jackson, Austin-Bergstrom, Baltimore Washington International, Boston Logan International, Charlotte Douglas, Chicago O'Hare International, Dallas Fort Worth International, Denver International, Detroit Wayne County, Houston George Bush Intercntl., Las Vegas Mccarran, Los Angeles International, Miami International, Minneapolis St Paul, New York John F. Kennedy, New York Newark, Philadelphia International, Phoenix Sky Harbor, Portland, Raleigh / Durham, Salt Lake City, San Diego International, San Francisco International, San Jose International, Seattle / Tacoma International, Washington Dulles
Canada: Calgary, Halifax International, Montreal Pierre Elliott Trudeau, Ottawa International, St John's, Toronto Pearson International, Vancouver International
South Africa: Cape Town, Johannesburg O.R. Tambo
Singapore: Singapore Changi
Luton (LTN)
- 136 km. from Ramsgate city center
Public transportation to city center:
Taxi: minutes drive to city center of Ramsgate
Other destinations that were popular to combine with courses in Ramsgate