Norwich Language School Ranking based on student ratings - 7 schools
Filter
Map
Interested in online courses?
Norwich ratings & opinions
What our students said about Norwich
5.0
Nice destination, but not for a 2 week trip. I needed more courses
Anais
France
Most recent student reviews of language schools in Norwich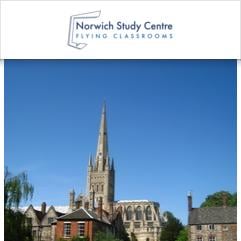 Friendly, good teachers, interesting

5 December 2022
Course: General English - 13 weeks
Student age: 22 years
Information about Norwich
Why Norwich? The easy-going city of Norwich is a wonderful fusion of modern and historic and being the most complete medieval city in the UK it boasts a rich tapestry of meandering alleys sprinkled with architectural jewels, a magnificent cathedral and an impressive Norman castle for example. It has a flourishing arts, music and cultural scene, thriving markets, lively restaurants, bars and nightlife and a heritage that is a pleasure to explore and with a large student population the city has a good energy that all can enjoy.
Key Facts about Norwich
Population: 144,000
Time zone: -9h. (GMT +0)
Region: England, Norfolk
Currency: GBP (1 GBP = 1646.6748 KRW)
Visa:
Nationals from South Korea do not require a visa to study short term courses up to 180 days. Documentation regarding purpose of visit must be shown at the border in order to enter the country. For Study purposes: letter of enrolment from school, accommodation arrangements and proof of payments to the relevant institutions.
Check visa requirements for nationals from other countries.
Visa requirements data last updated on 01 Dec. 2022
(
Source
)
Cost of Living:
* 100 = prices in Seoul
Price index excluding rent:

94* (6% cheaper than Seoul)

Price index including rent:

79* (21% cheaper than Seoul)
Price index food only:

52* (48% cheaper than Seoul)

Big Mac price (England UK average):

3.58 £

(27% more expensive than in South Korea)
Mains electricity:
Residential voltage:

230 V

Frequency:

50 Hz
FAQ about courses in Norwich
What is the best language school for adults in Norwich?

Which English school in Norwich has the best location?

Norwich Study Centre, located in 5, Tombland has been voted as the school with the best location in Norwich.

Which schools in Norwich offer the best excursions and afternoon activities?

Which English school offers the best rated teaching in Norwich?

Which school offers the best accommodation in Norwich?

Didn't find what you are looking for?

Interested in language travel to other cities? Have a look at English language schools in other cities in England UK such as Abingdon, Arundel, Ascot, Ashford, Bath

...

, Bedford, Birmingham, Blackpool, Bournemouth, Bradford, Brighton, Bristol, Broadstairs, Bury St Edmunds, Cambridge, Canterbury, Caterham, Chelmsford, Cheltenham, Chester, Chichester, Cobham, Colchester, Cornwall, Cotswolds, Cottesmore, Crowthorne, Dover, Durham, East Budleigh, Eastbourne, Egham, Exeter, Exmouth, Folkestone, Gloucester, Hailsham, Hampstead, Hastings, Hatfield, Henley-On-Thames, Hereford, Hook, Hove, Ilfracombe, Ipswich, Isle of Sheppey, Isle of Wight, Jersey, Kent, Kingston upon Thames, Lancashire, Lancaster, Lancing, Leamington Spa, Leeds, Lincolnshire, Liverpool, London, Loughborough, Luton, Maidstone, Malvern, Manchester, Margate, Milton Keynes, Moulton, Newcastle, Newquay, Nottingham, Oakham, Oxford, Paignton, Peterborough, Plymouth, Portsmouth, Preston, Ramsgate, Reading, Rochester, Salisbury, Scarborough, Sheffield, Shrewsbury, Skegness, Southampton, Stratford, Stratford-upon-Avon, Suffolk, Surrey, Torquay, Totnes, Truro, Watford, Weymouth, Winchester, Windlesham, Windsor, Woburn, Woldingham, Woodcote, Worcester, Worthing, York or see our list of all schools in England UK. You may also want to consult options outside England UK for learning English.